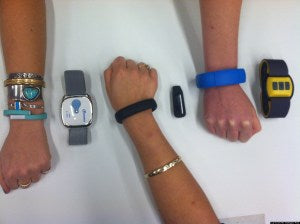 7 Famous Celebrities You Never Knew Wear Fitness Trackers
Wearable fitness trackers are all the rage, and we've seen everyone starting to wear them. Not just professional athletes, but singers, hosts and even business and political leaders! Looks like more people are more serious about leading healthy and active lifestyles. Here's a look at the who's who in the world of wearable fitness tracker users.
First African-American president of the United States of America, devoted father of two… and avid Fitbit user? Barack Obama has been seen sporting a Fitbit watch in meetings with foreign delegates, no doubt a reflection of his commitment to a healthy lifestyle. You go, Mr President!
Actress Kristen Stewart may be better known for her performance as Bella in the Twilight series alongside co-star Robert Pattinson (coincidentally also a fitness wearable fan) rather than her fitness and active lifestyle, but this just goes to show that anyone can wear a wearable fitness tracker.
Sported with a fashionable Jawbone Up24, which syncs easily with your smartphone app, we are pretty sure she could have used one when running away from bad guys in Twilight.
Tennis superstar Serena Williams is a role model in many ways. From being a huge advocate of women's rights, to being a leader in the field of tennis, she's definitely a force to be reckoned with. She's also known to be a fan of the Nike Fuelband, a wearable fitness tracker that was rolled out by Nike a few years ago.
We can see how the data and provide by a wearable fitness tracker such as the Nike Fuelband can useful for a professional athlete such as Serena. Imagine what you could do with it!
Basketball legend and businessman Shaquille O'Neal is known to be an avid wearable fitness tracker fan, sporting a Fitbit. He first started using one when he felt that he was starting to be less physically fit, following his retirement for the world of basketball. He has since convinced his entire family to start using it, and they even compete with each other to see who can rack up the most steps each day.
In fact, Shaq is such a fan of wearables that he has spoken about how he believes that wearables should address medical issues, and being aware of the privacy issues involved in digitalizing all your health information.
Gwyneth Paltrow, besides being famous for her acting chops and her work as a lifestyle magazine curator, is well known for being extremely particular regarding health and fitness. We can see how using a wearable fitness tracker would be a good compliment to her current lifestyle. She once even revealed that her secret to health and fitness success was her Jawbone Up!
Resident bad-boy and highly successful entrepreneur of the business world, Richard Branson has been spotted wearing wearable fitness trackers as well, in the form of a Garmin Vivofit. He's been known to be extremely perceptive about what thinks are going to take off and become trends among the market, so we're pretty sure this is a good sign.
If there was anyone we could best end our article with, it had to be Singapore Prime Minister Lee Hsien Loong. As he mentioned: "Each person has to take responsibility for his own health. We must each watch our weight, eat healthily and exercise regularly, and avoid smoking."
Seen to be wearing a Jawbone Up fitness wearable, we're glad that the leader of our country is taking a step to ensure that he leads an active lifestyle himself!