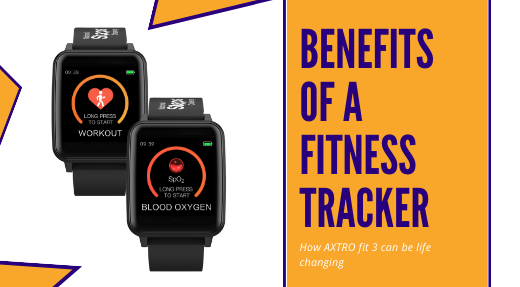 Benefits Of A Fitness Tracker - How AXTRO Fit 3 Can Be Life-Changing
Exercising, working out, it's all about fitness and health now. More and more people are starting to pay more attention to their physical health, by clocking the gym sessions, signing up for spin or yoga classes, or even buying a bicycle to cycle those unhealthiness away! With this ongoing trend, fitness, health and data tracking wearables have become increasingly popular lately.
You may be wondering, what really is a fitness tracker? Is it some sort of watch that makes your fitness sessions look more legitimate?
So, a fitness tracker is a wearable device that you wear on your wrist and it tracks your steps, heart rate and sleep patterns (exclusive to some models only). Depending on the brand and model, it can look similar to the latest Apple watch or just a band with a small rectangular digital display.
Now that you know what a fitness tracker does, let's continue on to see how it can be beneficial to you and change your life!
Personal Accountability

Thinking of beating your personal goals and striving towards a healthier lifestyle or just starting to exercise? Fitness trackers got your back! Most trackers keep track of your progress and psychologically, this can help to encourage you to walk more steps than yesterday; run an extra few metres than yesterday; and thus, sustain a higher peak heart rate for a longer time. In fact, some studies showed that even just wearing a basic pedometer can increase activity levels by 30%.

When your fitness tracker gives a visual of your daily progress and accomplishments, the sense of achievement from good progress is an excellent motivation to improve more and more every day. You will be more committed to clocking the targeted steps in, running an extra lap or completing your workout session for the day.

You are accountable for your health, let fitness trackers help you to achieve your goals!


Monitor Your Sleep

As technology advances, some trackers can help to monitor your sleep movement and provide insights into your sleep habits so you can improve your sleep experience. By estimating your time in bed and your time asleep, fitness trackers will analyse changes in physical activities, such as night movements.

Getting an average of at least 7-8 hours of sleep every night can help to minimize mental health issues and improve your concentration and productivity. This is because sleep is vital for several aspects of brain function, such as cognition, concentration and productivity. When you only get minimal hours of sleep, these functions can be negatively affected and thus ruin your day! Curious about the advantages of sleep? Read our blog on the importance of quality good night sleep to find out!

Hence, with a fitness tracker, by tracking your sleep patterns, you can make healthier choices to improve your sleep quality over time.


Heart-rate Tracking

Most fitness trackers can monitor your heart rate by measuring your pulse. This allows you to adjust the intensity levels of your workout accordingly to reach the target heart rate. You may ask how do I know what is the maximum or targeted heart rate? The maximum heart rate is estimated to be your current age subtracted by 220. For example, if I am 19 years old currently, my maximum heart rate when working out should be 220 - 19 years old = 201 beats per minute. It is recommended that when engaged in light to moderate physical activities (Eg. Brisk walking, dancing and riding a bike), your target heart rate should be within 50-70% of your maximum heart rate and for vigorous activities (Eg. Aerobics, gymnastics and playing sports like basketball), your target heart rate should be within 70-85% of your maximum heart rate.

Therefore with a fitness tracker, it will track your heart rate and when it detects any changes, you can adjust your breathing, workout duration and intensity to prevent injuries.
Any AFFORDABLE Fitness Tracker To Recommend?
Now that you know about how fitness trackers can be really beneficial to you in the long run, are there any fitness trackers in the market that are REALLY AFFORDABLE but still provide the same or better features than the branded ones? The answer is, yes!

You may or may not know already, but AXTRO Fit 3 is the one and only fitness tracker you are looking for!


Priced at only S$24.00, it is one of the most affordable, if not the most affordable fitness tracker in the market which includes many of the following features:
All-day Steps, Activity and Heart Rate Tracking

Blood Oxygen (SpO

2

) Measurement - measures percentage of oxygen in blood

Workout Mode - alerts you when you enter moderate/vigorous heart rate zones so you can adjust workout intensity levels accordingly

Sleep Tracking - only available to eligible participants. Sleep duration is only viewable on the app after syncing. To view feature eligibility for NSC6, click

here

.

Splash, Sweat and Water Resistant - however, AXTRO Fit 3 is not water-proof so it is not suitable for underwater activities. Do remove it when engaged in such activities.

Multi-day Battery Life - a full charge takes approximately two hours. Depending on usage frequency and intensity, the tracker's battery life when fully charged is estimated to be 5-7 days.
So, who says only the higher-priced point trackers can provide you with more fitness tracking features and the lower-priced models can only track your steps and heart rate? With AXTRO Fit 3, you are one step closer to achieving wellness and vitality!
What are you waiting for? Grab your AXTRO Fit 3 here or head down to our retail store today - while stock lasts!
Together, let's burn those calories with AXTRO Fit 3!