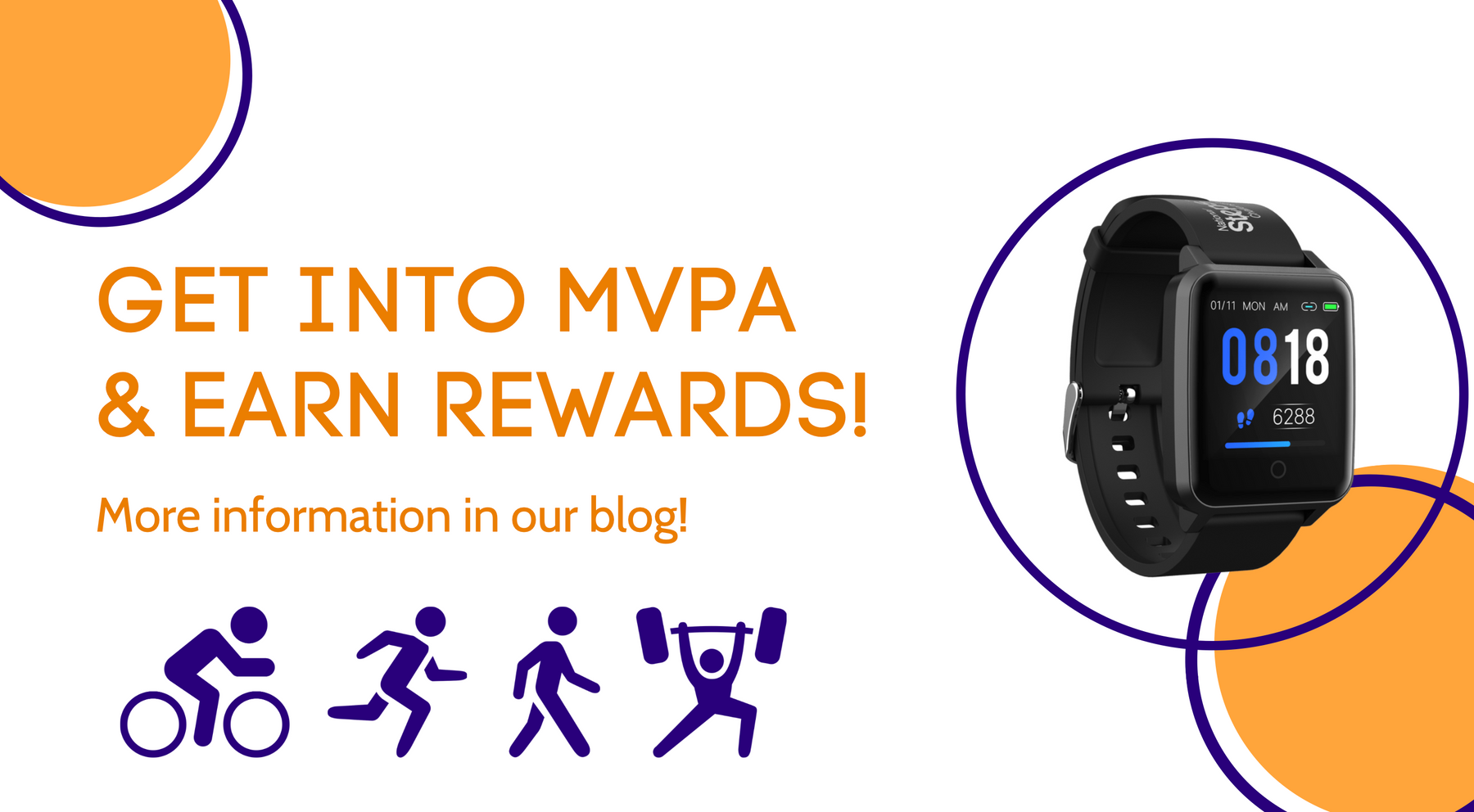 Get into MVPA and earn rewards via National Steps Challenge (NSC6)!
Looking to spice up your workout regimen but aren't sure what to do? Look no further! Learn how to improve the quality of your life by incorporating MVPA into your workout routines, as well as how to earn MVPA rewards in the National Steps Challenge Season 6!
In case you've never heard of the acronym, 'MVPA' before, it basically stands for Moderate to Vigorous Physical Activities. MVPA is defined as any activity that raises your heart rate or breathing rate. Jogging, cycling, and swimming are some of the most common MVPA activities that you may already be doing frequently.
Why is MVPA important?
MVPA can vastly boost your overall physical health by focusing on cardio-respiratory fitness, bone strength, weight control, and minimizing your risk of severe conditions like heart disease, cancer, diabetes, and anxiety & depression. 
As Singaporeans, we all lead a hectic lifestyle on a daily basis, whether as students or working adults. Every day, we face a slew of demands, from our schools or workplaces. And yes, it can be stressful.
As cliché as it may sound, your mind matters over your body. Every thought that enters our mind sends a signal to our body, which responds to those thoughts. However, if our bodies aren't treated properly while meeting them, it can have a huge toll on them. 
Okay, I hear your mind voice…"If only it was so easy to exercise everyday", "My busy lifestyle says no". Well well, we all have the same 24 hours daily, no one has more or less. We only have so much to do within then.
However, for MVPA, you don't have to exercise everyday. All you really need is 150 minutes per week, and if you do the math, that's really just about 20 minutes per day. Now, you don't really have an excuse, do you? Giving up just 20 minutes of your TV or hand-phone time to feel rejuvenated from within doesn't sound too bad.
What types of MVPA workouts can I do?
Sick and tired of your current workout routine? Try out these fun and easy workout routines devised by The Health Promotion Board to take it to the next level! Simply groove along to the videos and feel good inside and out!
How do I know the intensity of my workout?
Monitor your heart rate to identify which intensity level your workout falls under by using this simple equation:
Maximum Heart-rate (bpm) = 220 - your age
| | | |
| --- | --- | --- |
| Light Intensity | Medium Intensity | Vigorous Intensity |
| 57% - 63% | 64% - 75% | 76% - 95% |
Click here to calculate your heart range based on your age.
How can I earn rewards by doing MVPA?
Alright, let's talk about what you all are more excited about. You probably heard some buzz about earning rewards merely by just moving your body. That's right! The Health Promotion Board has just launched the National Steps Challenge 6, an initiative to encourage Singaporeans to stay healthy and fit by simply clocking in steps and MVPA minutes to earn vouchers worth up to $85. But that's for another blog-post where we have compiled everything that you need to know about the National Steps Challenge Season 6. Click here to find out.
What rewards can I earn by doing MVPA?
All you need to do is at least 10 minutes of MVPA continuously per workout session in order for your MVPA minutes to be clocked! Here's a breakdown of the Healthpoints you can earn daily based on the amount of MVPA duration you've clocked in:
| | |
| --- | --- |
| MVPA DURATION | HEALTHPOINTS (DAILY) |
| 10 - 19 minutes | 10 |
| 20 - 29 minutes | 25 |
| > 30 minutes | 40 (maximum) |
Do note that the maximum number of Healthpoints you can earn per day is 40, regardless of the MVPA duration you have clocked in. But hey, don't be too bumped over this! Go ahead and continue with your MVPA workout if you still feel the groove after 30 minutes! However, keep in mind that you should not overexert yourself; the recommended MVPA workout duration is 60 minutes per day.
How does the tier-level MVPA Rewards work?
40 Healthpoints per day is still not enough? This one is for all you kiasu Singaporeans out there! If this is your first time participating in the National Steps Challenge, or if you have not completed "MVPA Rewards'' Tier 1 in past seasons, you will be eligible to earn a 350 Healthpoints sign-up bonus!
Still eager to boost your Healthpoints? Well, get excited as you can earn extra 300 Healthpoints when you unlock Tier 3 and 4 of "MVPA Rewards''! So, what are you waiting for? Ditch that drama you are watching now and get moving!
MVPA REWARDS

TOTAL HEALTHPOINTS (PER TIER)

REWARDS VALUE

(PER TIER)

TIER 1 - 2

750

$5

TIER 3 - 6

1500

$10
However, only Healthpoints earned during Season 6 of the National Steps Challenge between October 1, 2021 and March 31, 2022 can be used to unlock each tier. If you are a returning participant, you may begin Season 6 on the last tier that you unlocked in previous seasons. All Healthpoints earned will only be credited into your e-wallet once you have completed each tier. Do also note that all Healthpoints earned will expire. Head to your Healthy 365 app to view your Healthpoints summary section.
How to sign up?
Pumped up to take part in the challenge and earn your MVPA rewards? Here is a guide on how to sign up for the National Steps Challenge!
Step 1: Download or update to the latest version of the Healthy 365 app. Do note that the latest version of the Healthy 365 requires a minimum of Android 6 or iOS10. 
Step 2: Create or restore your profile. A 4-digit One-Time-Pin (OTP) will be sent via SMS to your registered mobile number.
Step 3: Pair your preferred fitness tracking mode with the Healthy 365 app, if you have not yet done so.
Step 4: Tap on "Explore" under Menu and then tap "Challenges". Look for "National Steps Challenge Season 6" to sign up.
Step 5: Agree to the Terms & Conditions and complete your Health Declaration status. Congratulations, you have successfully joined the challenge!
Step 1: Start clocking 10,000 steps and 150 minutes of MVPA with your fitness tracker.
Step 2: Use your friend/family's smartphone to update your fitness records on the Healthy 365 app. Here's how:
Log out of your friend/family's account by going to the "Profile" tab and tap on the "Settings" icon on the top right corner




Scroll down to the bottom of the page and tap on "Log out".




Next, restore your profile.




Do note that a 4-digit One-Time-Pin (OTP) will be sent via SMS to the mobile number indicated in the user's account with every new log in.
Excited to take your workout routines to the next level? Hurry! Start your MVPA journey with us today!
Looking to purchase a fitness tracker for NSC6?
The AXTRO Fit 3, launching this 11 October 2021, has:
1.3-inch colour display

Dual watch face - analogue and digital

All-day Steps, Activity and Heart Rate Tracking

Blood Oxygen (SpO

2

) Measurement - measures percentage of oxygen in your blood)

Workout Mode - alerts you when you enter moderate/vigorous heart rate zones so you can adjust your workout intensity levels accordingly

Sleep Tracking - only available to eligible participants. Sleep duration is only viewable on the app after syncing. To view feature eligibility, click 

here

.

Splash, Sweat and Water Resistant - however, AXTRO Fit 3 is not water-proof so it is not suitable for underwater activities. Do remove it when engaged in such activities.
Does this makes you feel up and running already? Spruce up your daily routine and stay healthy with AXTRO Fit 3 while earning rewards at the same time!